Modular slaughterhouse
PRODUCTION MODULAR SHOPS FOR SLAUGHTER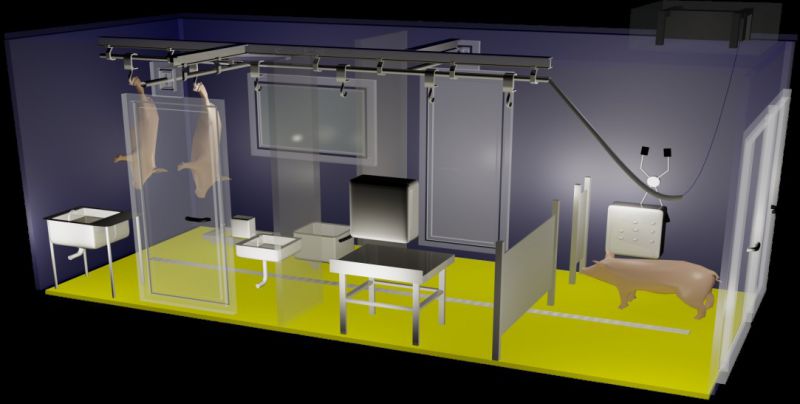 As long-standing practice has shown, container slaughterhouses have ceased to meet modern standards, so they cause a lot of inconvenience during operation. In this regard, the factory "Poltavamash" for the manufacture and sale of production equipment offers modular slaughter shops, which are a high-quality economic solution.
Modular premises of a small size, for example, 8 x 12 m, can easily accommodate a combined line by slaughtering meat carcasses. The productivity of the equipment of such a modular workshop can be up to 15 carcasses per hour, if it is a slaughter of pigs, and up to 5 per hour for cattle. At the request of the customer, the building can be equipped with small premises for workers of the enterprise, as well as pens for the preliminary preparation of cattle by adding a few more modules to the existing shop.
Modular shop for slaughter are divided into several sections, namely:
Stunning cattle by electricity;
slaughter and draining of blood;
scalding of carcasses;
wool removal;
carcass processing;
hanging pigs;
storage room for horns, hoofs and skins;
separate bowels from carcasses;
storage warehouse for bowels;
veterinary control;
divide to offal;
storage offal;
refrigerator.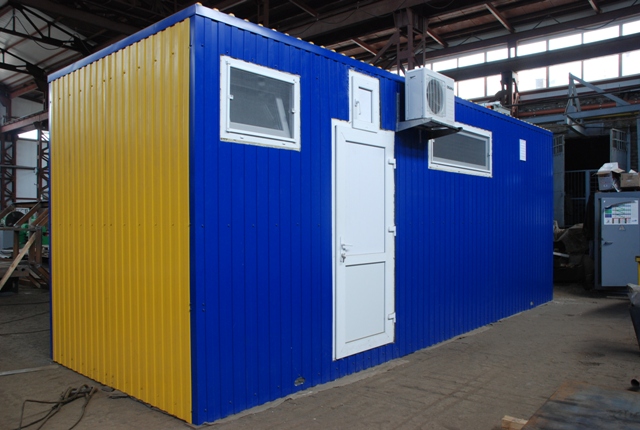 Modular shop for slaughter is mainly constructed from lightweight metal structures with a view to minimal time spent on erecting a building. It does not need a foundation, it can easily be installed within two to three days on a pre-arranged crushed stone surface. Initially, the standard size of the modular workshop is 8 x 12 m. If there is a need, it can be expanded by the module step through the columns, which is 4m. Such a building is also easy to disassemble and transport to another necessary location in case, if the company moves to another region. This largely saves the means of the entrepreneuras the cost of renting or purchasing a new carcass slaughterhouse is minimized.
Equipment manufactured in modular slaughterhouses by the Ukrainian plant "Poltavamash", made of stainless steel. Also the manufacturers of this institution took into account the factors of mechanization, automation of technological processes and compact design of equipment for comfortable operation in the production process. Through to many years of sales experience in the regions of Ukraine and abroad, this equipment has been in demand for several decades.
MODULAR SLAUGHTERHOUS
Modular slaughterhouse – this combination of the main advantages of modern enterprises for processing carcasses. Despite numerous advantages, such premises are compact, which reduces the cost of modular workshops, compared with conveyor. Modular workshops have a number of advantages, the main one of which is the speed of getting the finished product by the client. In the case of conveyor rooms, the process of designing and building workshops, as well as the supply of equipment, can last for more than one month.
THE DESIGN DEPARTMENT OF THE FACTORY HAS THE POSSIBILITY TO DEVELOP THE MODULAR SLAUGHTERHOUSE UNDER THE ORDER FROM THE INTERESTED PRODUCTIVITY OF WORK FOR CUSTOMER.