Meat processing equipment
LIST OF TECHNOLOGICAL EQUIPMENT FOR MEAT PROCESSING
| | |
| --- | --- |
| Name of equipment | Mark |
| Meat-Grinder | К7- FVP-82 |
| Meat-Grinder | К7- FVP-82-01 |
| Meat-Grinder | К7- FVP -114 |
| Meat-Grinder | К7- FVP 114-01 |
| Mixer-Grinder | К7-FVM-114 |
| Meat-Grinder | К7- FVP -130 |
| Meat-Grinder | К7- FVP -130-02 |
| Meat-Grinder | К7- FVP -160 |
| Meat-Grinder | К7- FVP-160-01 |
| Meat-Grinder | К7- FVP-160-03 |
| Meat-Grinder | К7- FVP-200 |
| Meat-Grinder | К7- FVP-200-02 |
| Set for meat separation | К7- FVP-114-01.07.000 |
| Set for meat separation | К7- FVP-130.200.00 |
| Set for meat separation | К7- FVP-160Н.200.00 |
| Set for meat separation | К7-FV2P-160-01.200.00 |
| Set for meat separation | К7- FVP-200Н.200.00 |
| Head fo separate | К7-FGS-200-01 |
| Head fo separate | К7- FGS-200 |
| Vacuum syringe | К7-FSHV-3 |
| Colloid mill | К6-FKM |
| Aggregate for fine grinding meat | К6-ATIM-2 |
| Storage device with rotary pump | К6-FNF-200 |
| Machine for fine grinding meat | К6-FI2-M |
| Aggregate for grinding and salting meat | YA2-FH2T |
| Aggregate for grinding and salting meat | YA2-FH2Т.1 |
| Rotary kiln | К7-FP2-G |
| Rotary kiln with gas heating | К7-FPG |
| Boiler with two self-unloading baskets | К7-FV3-Е |
| Tilting cooking boiler | К7-FVA |
| Tilting cooking boiler | К7-FVA-М |
| Massager | К7-FMV-100 |
| Massager | К7-FMV-220 |
| Multi-needle syringe | К7-FMC |
| Machine for stirring mincemeat | К7-FМ-150 |
| Machine for stirring mincemeat | К7-FMУ-150 |
| Machine for stirring mincemeat | К7-FM-300 |
| Machine for stirring mincemeat | К7-FMU-335 |
| Boot mechanism | К7-FMU-335 05.000 |
| Automatic cutlet machine | К6-FAK-50/75 |
| Meat processing aggregate | К7-FАМ |
| Equipment for semicondemned meat sterilization | К7-FS2B |
| Machine for cutting blocks Дымогенератор | К7-FBM |
| Machine for cutting lard | К7-FGSHM |
| Smoke generator | К7-FDG-500-01 |
| Universal thermocamera | К7-FTU |
| Steam Generator | К7-FTU-41.000 |
| Cooking boiler | К7-FKV-У250Э |
| Cooking boiler | К7-FKV-У500Э |
| Table for crumble | К7-FCK 0.5/1-1 |
| Table for knitting sausages and smoked products | К-7-FCK 0.5/3-1 |
| Chan | К7-FCK 0.5/5-1 |
| Stillage | К7-FCK 0.5/2-2 |
| Control cabinet | К7-FTK-27.000 |
| Control cabinet | К7-FDG-500-01.08.000 |
MACHINE FOR STIRRING MINCEMEAT
Machine for stirring mincemeat – equipment, without which the enterprise engaged in the manufacture of meat, fish or even vegetable dishes, can't has effectively work. It is an integral device in the chain of technological process for the production of meat products. This device especially relevant will be there, where a very large turnover of food sales. It can be canning factory, canteens or supermarkets
Construction of machine for stirring mincemeat is completely simple. It consists of a base, kneading reservoir, shaft with blades (or several shafts), electric drives, responsible for mixing and tipping the tank with finished products and control panels. Some models of minced meat mixers may differ slightly in their design, but the principle of work is the same for them. They are created in order to mix the ingredients in a homogeneous mass.
There are several types of machine for stirring mincemeat, namely:
сlosed type (vacuum);
open type.
Minced meat, made in these mixers differs in its consistency. For example, minced meat, cooked in a vacuum mixer, will be more dense, can be stored longer. Open minced meat mixer enrich the production with oxygen, making the product more delicate.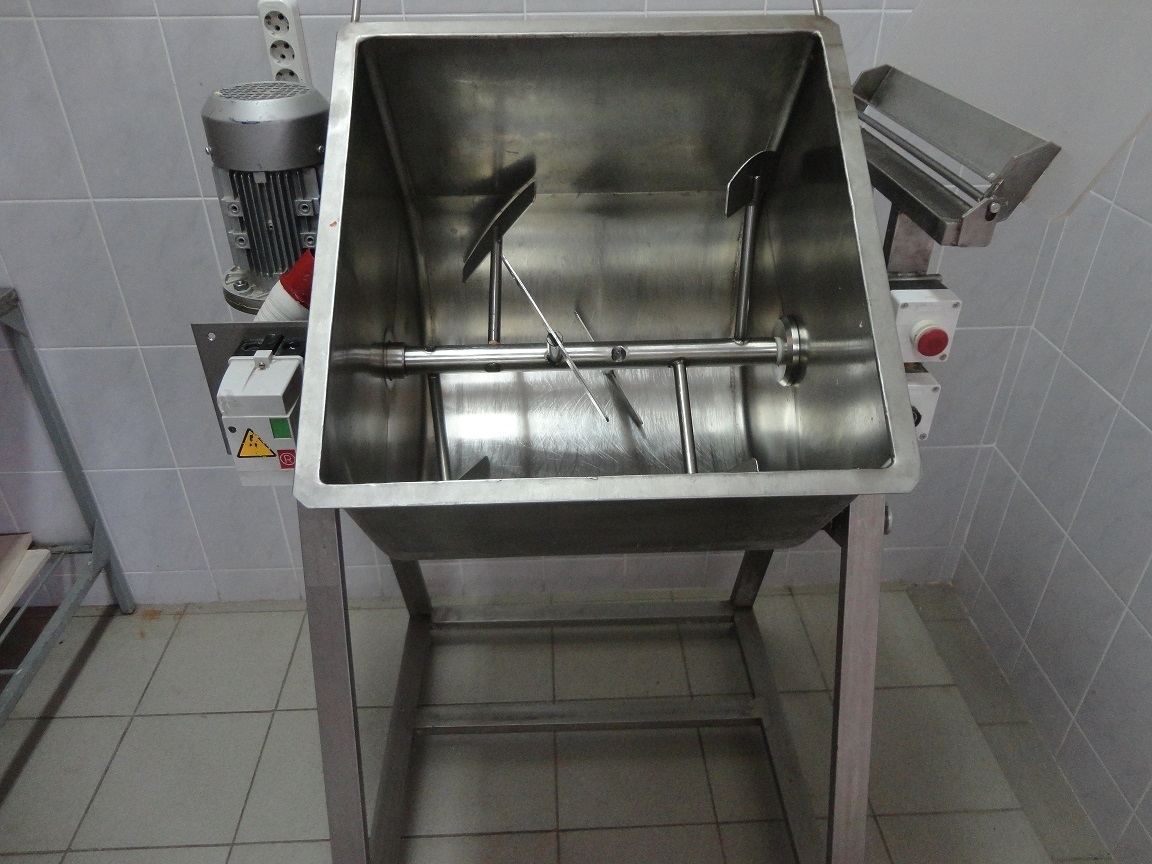 A good мinced meat mixer must have low rates power consumption, because on the production line this unit works for many hours. There are times when you need to mix the ingredients daylong. Based on this, the device must have excellent reliability but in the event of a breakdown should be easily repairable. Such this machine for stirring mincemeat makes the plant «Poltavamash».
Products of the factory "Poltavamash" have been produced from high-quality materials for more than 65 years. Huge experience and constant monitoring of the products, starting from the design of the new model and ending with the delivery to the buyer, allow to put on the market mincemeat miхer , which are easy to use, have a long service life, unpretentious in service and and have adequately cost.
Also buy a minced meat mixer from the plant «Poltavamash» will be appropriate for organizations, wishing to modernize their production, replacing obsolete equipment with a more modern one.
Choose a quality product – choose the machine for stirring mincemeat produced by the «Poltavamash» plant.
Copyright MAXXmarketing GmbH