Geese
LIST OF PROCESSING EQUIPMENT FOR GEESE PROCESSING LINES
Name of equipment

mark

500

1000

heads / hour

heads / hour

Primary processing area

Transporter

V2-FDP/2

1

1

Conveyer

К7-FCL-6/41-06

1

1

Poultru electric struner

R3-FEO

1

1

Killing machine

V2-FC-2L-6/4-02

1

1

Poultry counter

К7- FC L 6/66

1

1

Thermal conditioning bath

К7-FC-2L-6/5-04

1

1

Wing machine

К7-FCL-7

2

2

Cleaning machine

К7-FCL-6

1

1

Leg separation machine

V2-FC-2L-6/9-01

1

1

Conveyer sanitization device

К7-FО2-L/6

1

1

Poultru limb cutter

К7-FCL-6/39

1

2

Control panel

K7-fc2l/45

1

1

Evisceration area

Transporter

V2-FCL-6/26-01

1

1

Conveyer

К7-FCL-6/41-07

1

1

Workplace of a veterinary expert

К7-F0-20 1/2

1

1

Gutter for collecting and hydro-transporting of technical wastes

V2-FC2-L/13-02

1

1

Cleaning machine

К7-FCL-6

1

1

Machine for stomachs cutting and washing

V2-FОО-1/3

1

1

Cuticle cutting machine

K7-fcl-15

1

2

Pump for pumping pluck

V2-FCL-6/67

3

3

Control panel

K7-fc2l-46

1

1

Сooling area

Transporter

V2-FCL-6/26-02

1

1

Conveyer

К7-FCL-6/41-20

1

1

Camera for watering

RЗ-FOC-4/1

1

1

Cooling bath

RЗ-FOC-4/2

1

1

Cleaning machine

К7-FCL-6

1

1

Giblet cooler

V2-FCL 6/11

3

3

Control panel

K7-fc2l-46

1

1

Waxing area *

the equipment of this area is not produce by the enterprise

Sorting area

Conveyer

К7-fcl-6/45

1

1

Circular saw

К7-fo-02

1

2

Transporter

V2-FCL-6/32

1

1

Tre supply area

Conveyer

К7-FCL-6/46

1

1

Transporter

V2-FCL-6/36

1

1

Primary feather processing are

Pumping apparatus (75 m3/h)

V2-FC2-L/38

2

2

Separator for waste and feather

V2-FC2-L/37

2

2

Feather drying machine

R3-FAR

1

1

Auxiliary equipment

Air blow tank

R3-FPD

1

1

Air blow tank

K7-FP2-E

1

1

Cart

V2-FC2-L/29

2

3

Cart

V2-FC2-L/29-01

2

3
Anthrax raw materials are obtained by sequential treatment with special equipment for the processing, drying of poultry feathers. The Ukrainian plant "Poltavamash" provides entrepreneurs with a wide range of machines whose performance and reliability are confirmed by a high-quality final product. In virtue of many years of experience in the production of such equipment, the company acquired customers not only in the own country, but also abroad.
Demand for this product line is growing daily, because the pen processing industry is quite in demand due to the profit it brings with a properly organized technological process.
Before the feathers of birds get to the final stage of the sale, they go through several stages of preparation. Often, the feather of raw materials falls on the equipment for treating the feather of a bird in a polluted form. This means that it needs preliminary cleaning and washing, carried out with the help of special machines. Dehydration of poultry feathers and down is achieved by the operation of another apparatus - a centrifuge.
Processing of raw materials, as already noted, is carried out in two main stages. Washing of feathers and down is made in a special machine, whose work is as follows:
loading of raw materials into the floor hopper, after which, under the influence of the fan, the feathers fall into another, intermediate bunker;
the operation of a damping device giving a signal to stop feeding;
processing of downy raw materials in a detergent with a special detergent solution;
washing of raw materials from washing solution and dirt, carried out as many times as necessary to completely eliminate pollution;
after dehydration, the raw material enters a special centrifuge.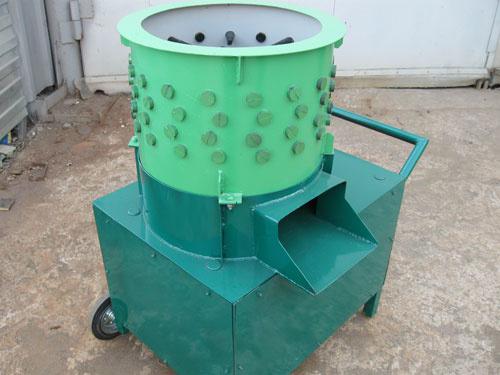 Then the process of drying the pen takes place. The equipment for drying the feather of a poultry consists of several sections, the productivity of which shows an excellent result when obtaining the final product. Such dryers produced by the Poltavaamash plant are reliable, high-tech modern equipment. This is evidenced by the demand for this product of entrepreneurs who have taken up the niche processing of feather fines in the Ukrainian regions and neighboring countries.
Consequently, the processing of raw materials, as well as the food processing industry, is a laborious process that requires certain knowledge and work experience.
To business entrepreneur brought, in addition to pleasure, a good income, you need to buy reliable, high-quality equipment from a time-tested manufacturer. The factory "Poltavamash" produces and sells equipment of this class for several decades, and it remains in demand among food industry entrepreneurs to this day.
Copyright MAXXmarketing GmbH