Broiler chickens
THE LIST OF TECHNOLOGICAL EQUIPMENT FOR PROCESSING LINES FOR CHICKENS, BROILERS
Name of equipment

mark

Lines and productivity

100

heads/

hours

500

heads/

hours

1000

heads/

hours

1500

heads/

hours

2000

heads/

hours

3000

heads/

hours

6000

heads/

hours

9000

heads/

hours

Primary processing area

Conveyer

К7-FCL.100M.10

1

Tray for blood drain

К7- FCL .100М.20

1

Centrifuge

К7-FCL.100М.50

1

Transporter

V2-FDP/2

1

1

1

1

1

1

1

Conveyer

К7-FCL-6/41

1

1

Conveyer

К7-FCL-6/41-01

1

1

Conveyer

К7-FCL-6/41-11

1

Conveyer

К7-FCL-6/41-12

1

Conveyer

К7-FCL-6/41-17

1

Conveyer

К7-FCL-6/41-19

1

Poultru electric struner

R3-FEO

1

1

1

1

1

1

2

Killing machine

V2-FC-2L-6/4-01

1

1

1

1

1

1

2

Poultry counter

К7-FCL 6/66

1

1

1

1

1

1

2

Thermal conditioning bath

К7-FC2-L-6/5

1

1

Thermal conditioning bath

К7-FC2-L -6/5-01

1

1

Thermal conditioning bath

К7-FC2-L -6/5-02

1

1

Thermal conditioning bath

К7-FC2-L -6/5-03

1

1

1

Wing machine

К7-FCL/7

2

2

2

2

2

3

5

Cleaning machine

К7-FCL/6

1

1

1

1

1

1

2

Machine for separation heads

К7-FCL-6/16-01

1

1

Machine for separation heads

К7-FCL-6/16-02

1

1

Machine for separation heads

К7-FCL -6/16-03

1

Machine for separation heads

К7-FCL -6/16-04

1

Machine for separation heads

К7-FCL -6/16-05

1

Machine for separation heads

К7-FCL -6/16-06

1

Leg separation machine

V2-FC-2L-6/9

1

1

1

1

1

1

2

Conveyer sanitization device

К7-FО2-L/6

1

1

1

1

1

1

2

Poultru limb cutter

К7-FCL-6/39

1

2

2

2

2

2

3

Carcasses dropping device

YA6-FSB

1

Control panel

К7-FC2L/45

1

1

1

1

1

1

2

Control panel

К7-FCL-100М.60

1

Evisceration area

Transporter

V2-FCL-6/26-01

1

1

1

1

1

2

3

Table of half-evisceration

К7-FCL-100М.70

1

Conveyer

К7-FCL -6/41-02

1

1

Conveyer

К7-FCL -6/41-08

1

1

Conveyer

К7-FCL -6/41-09

1

Conveyer

К7-FCL -6/41-10

1

Conveyer

К7-FCL -6/42

1

1

Conveyer

К7-FCL -6/43

1

1

Workplace of a veterinary expert

К7-F0-20 1/2

1

1

1

1

1

2

3

Gutter for collecting and hydro-transporting of technical wastes

V2-FC2-L/13

1

1

Gutter for collecting and hydro-transporting of technical wastes

V2-FC2-L /13-01

1

2

3

Gutter for collecting and hydro-transporting of technical wastes

V2-FC2-L /13-02

1

Gutter for collecting and hydro-transporting of technical wastes

V2-FC2-L /13-03

1

Cleaning machine

К7-FCL-6

1

1

1

1

1

2

3

Machine for stomachs cutting and washing

V2-FОО-1/3

1

1

1

1

2

4

5

Cuticle cutting machine

K7-FCL-15

1

2

2

3

4

8

10

Pump for pumping pluck

V2-FCL-6/67

3

3

3

3

3

6

9

Neck cutting machine

YA6-FRSH

1

1

2

3

Neck cutting machine

YA6-FRSH -01

1

1

1

Neck cutting machine

YA6-FPSH

1

1

2

3

Neck cutting machine

YA6-FPSH -01

1

Neck cutting machine

YA6-FPSH -02

1

Neck cutting machine

YA6-FPSH -04

1

Carcasses dropping device

YA6-FSB

1

Control panel

К7-FC2L/46

1

1

1

1

1

2

3

Сooling area

Transporter

V2-FCL-6/26-02

1

1

1

1

1

2

3

Camera for watering

К7-FCL-100М.30

1

Conveyer

К7- FCL-6/41-14

1

1

Conveyer

К7- FCL -6/41-15

1

1

Conveyer

К7- FCL -6/41-16

1

2

3

Camera for watering

RЗ-FO2-C-1/1

1

1

Camera for watering

RЗ-FO2-C -2/1

1

1

Camera for watering

RЗ-FO2-C -3/1

1

2

3

Cooling bath

RЗ-FO2-C -1/2

1

1

Cooling bath

RЗ-FO2-C -2/2

1

1

Cooling bath

RЗ-FO2-C -3/2

1

2

3

Cleaning machine

К7-FCL-6

1

2

3
SLAUGHTER LINES FOR BROILERS, DUCKS, TURKEYS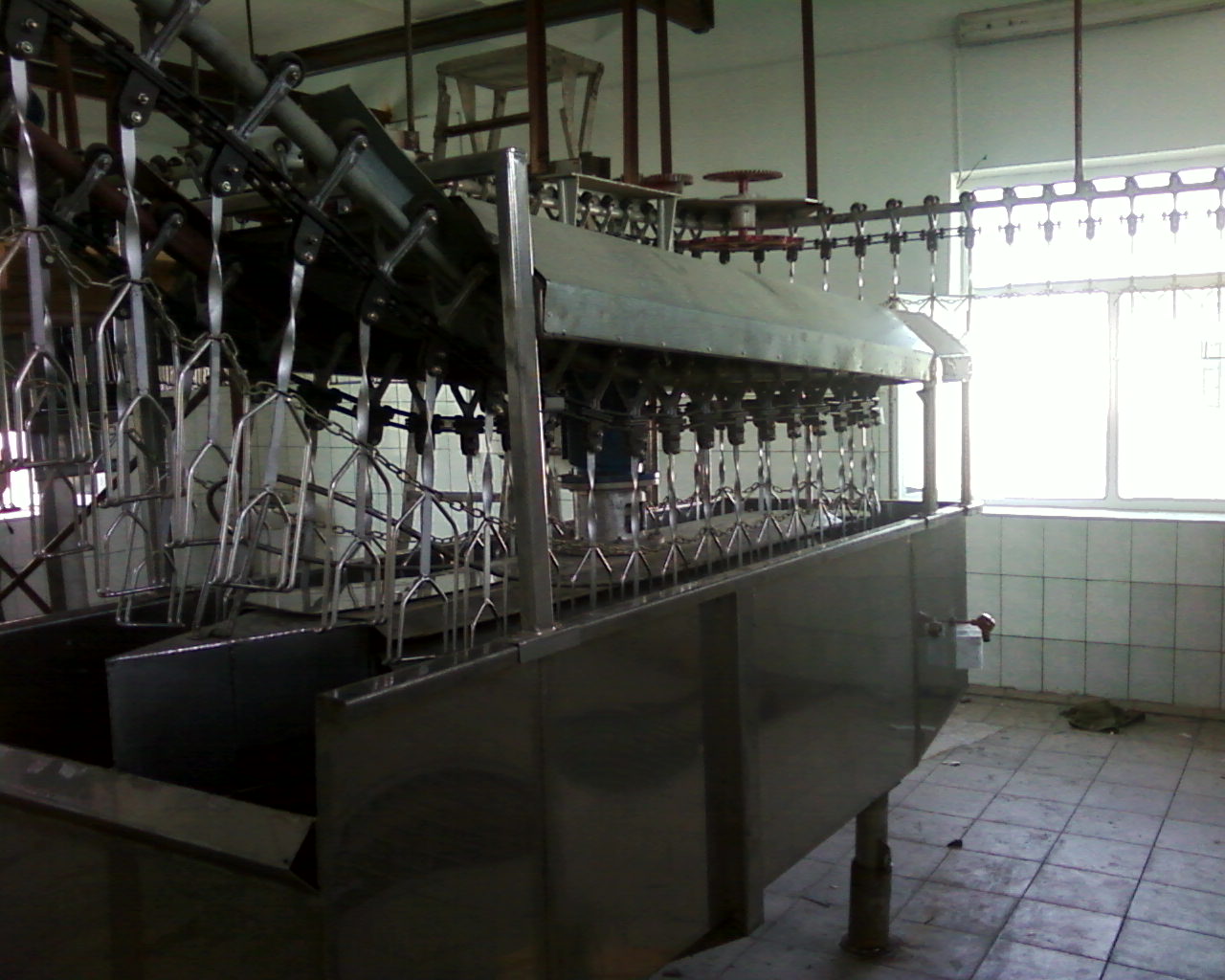 In order for the process of slaughter and processing of avian carcasses to be maximally effective and productive, it is necessary to purchase such equipment that can cope with a large batch of poultry in one cycle, without reducing the quality of the resulting final product. Such equipment is very much in demand today for small enterprises for processing poultry. Lines for slaughter of a broiler produced by the Ukrainian factory "Poltavamash" differ in compactness, efficiency, democratic cost and convenience in operation at each stage of processing carcasses. The productivity of such equipment allows to minimize economic costs and accompanying costs of entrepreneurs to pay off a losing lot. The designers of the plant took into account the highest requirements of quality and sanitary and hygienic standards, so the basic elements and frame of the produced slaughter line of broiler, duck, turkey are made of stainless steel, harmless to the human body. In addition, in such equipment there are no platforms, so this saves considerable time for caring for the line when removing feathers at the end of the process of processing birds.
Slaughter lines for ducks and other bird carcasses produced by the Poltavaamash plant have a number of advantages, among which:
minimization of occupied space at the enterprise with full processing technology;
installation, which does not require special knowledge for working with equipment, is carried out in a few minutes;
material used for the manufacture of equipment, ensuring ease of maintenance and care for it;
a guarantee of high-tech production, due to the huge demand for Poltavamash products in Ukraine and neighboring countries.
To start the slaughter line of broiler, ducks and turkeys, no additional manipulation is required, in addition to power supply and water supply. This provides the company with a saving of funds for unnecessary related activities, taking too much time, which should be spent on quality and profitable production. The operator only needs to connect the equipment and start working, while the line will produce step-by-step actions of slaughter and processing of poultry.
As you know, ducks and turkeys, unlike chickens, are much more difficult to pluck from feathers. "Poltavamash" offers wet lifting equipment, the work of which is adjusted in such a way, that at the end of the process of cleaning poultry on the slaughter line turkeys carcasses are perfectly nipped, ready for the next production stage of sale or processing without additional efforts.
If you want to organize an enterprise that excludes work at a loss, it is necessary with all responsibility to approach the selection of specialized equipment. On this stage that the fate of subsequent results of production and processing of poultry carcasses is decided.
Copyright MAXXmarketing GmbH