To conduct a profitable business and organize the correct operation of an enterprise for processing bird carcasses, high-performance equipment is needed. Ukrainian factory "Poltavamash" for the production of equipment for slaughter of poultry produces and sells effective devices, the high quality of which allows us to talk about the demand for this technological product in the territory not only of the Ukrainian regions, but also in the countries of the near abroad.
For each production site, the boiler slaughter line is equipped with automated equipment. This equipment must comply with all norms and standards of the production process, on which the quality of the resulting products depends on the final result. The factory manufacturing and selling high-tech equipment "Poltavamash" guarantees to entrepreneurs the effectiveness of each sold unit of equipment for slaughter of birds, which is indicated by many years of experience and the demand for products in many foreign countries.
So, consider the slaughter process, which consists of the following operations:
reception and distribution of avian carcasses;
stunning poultry;
slaughter, bleeding;
scald;
cleaning of feathers.
Lines for slaughter of poultry
In order to ensure sanitary and hygienic standards at the enterprise, each department is located in accordance with a certain process. This guarantees the most efficient and productive work in the production.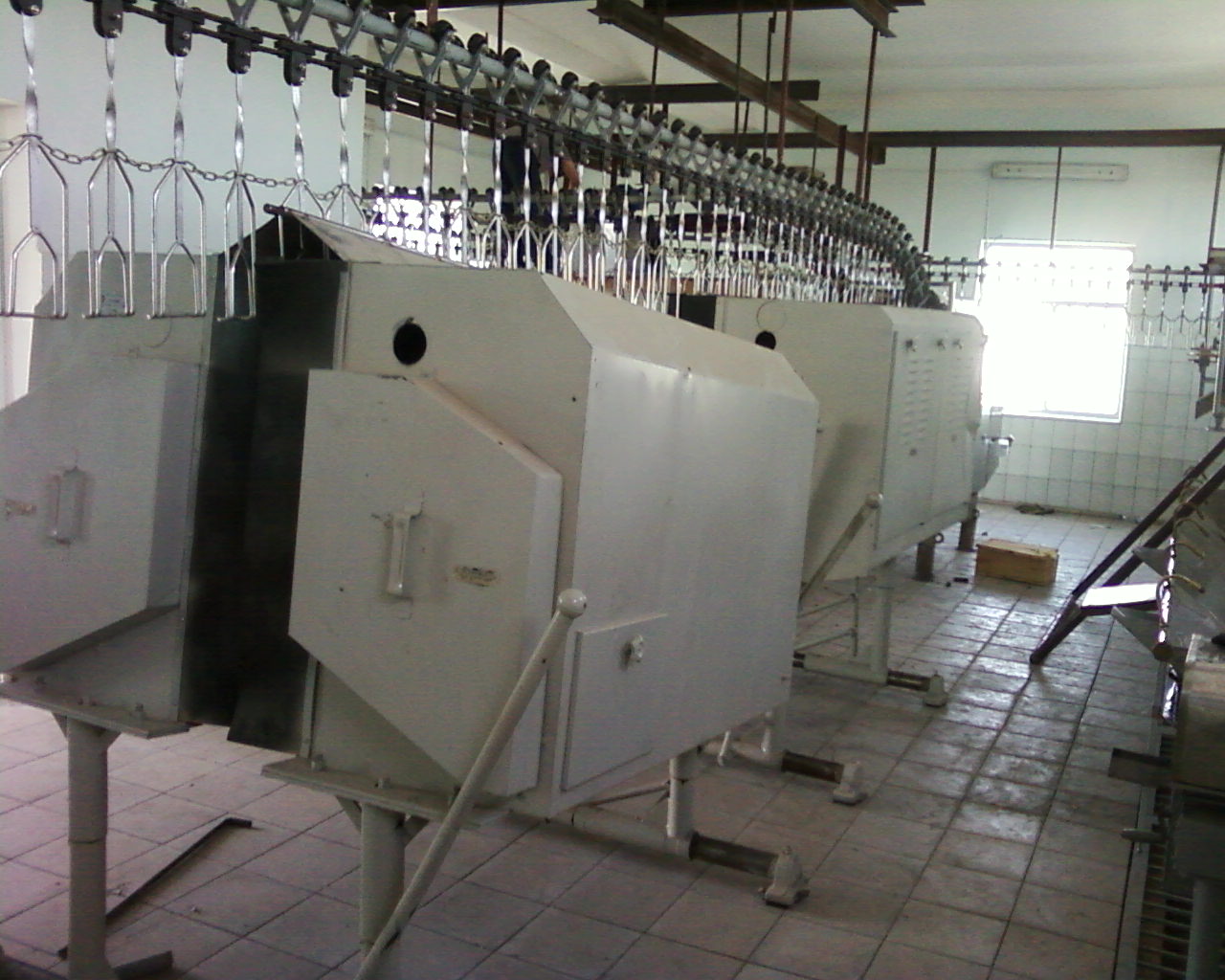 At each process, specially prepared equipment is installed, designed for a certain front of work. So, the lines for slaughtering ducks during the hanging of a bird is a debugged process, during which the operator does not make unnecessary movements, as the supply of containers with carcasses is automatic. Thus, the physical expenditure of human energy is minimized.
The stunning bird is a responsible and laborious stage, therefore it is produced with the help of a special device and a water bath in which the electrode is immersed. Another electrode is located on the line, and when the poultry heads pass along the line, the poultry is stunned by passing electricity through the poultry body, which closes the chain.
Just like stunning, slaughtering, scaldand plucking schip require a sequence of actions, the implementation of sanitary norms and properly organized technological processes, since each stage follows a certain result, which, if negatively affected, can affect the quality of the final product, why the enterprise will suffer a loss.
To avoid such situations, "Poltavaamash" offers to purchase high-tech equipment on the slaughter line for turkeys, which has been in demand for several decades. In the production of attractive, possessing useful properties of poultry carcasses, it is advisable to organize the enterprise so that it generates revenue, which can not be done without high-quality and reliable equipment.