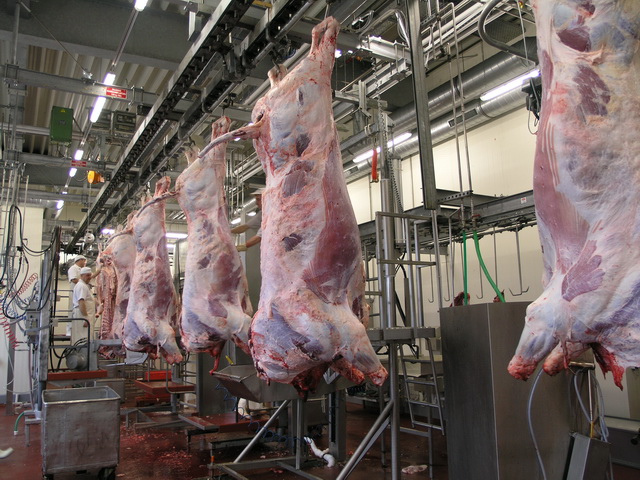 For today, the line of slaughter cattle have a huge demand among producers of meat products. Ukrainian plant for the production and sale of specialized equipment for food processing industry "Poltavamash" offers a range of slaughter lines for cattle, small cattle and pigs.The maximum performance of these devices allows adjust the work of the company in such a way that it brings a stable, maximum income minimizing the associated costs of electricity, water and so on.
Slaughter of pigs, for example, is carried out only in a specially equipped premises, prepared in accordance with the standards and veterinary rules. An enterprise that carries out the production and processing of carcasses is required to purchase high-tech, advanced equipment and slaughter equipment, since this may not only depend on their income, but also the quality of the final product, on which the consumer's health depends. Also, slaughterers must organize and divide into small shops the process of slaughtering cattle to exclude the contact of clean and dirty works.
The plant for the production of special equipment for the meat industry "Poltavamash" offers entrepreneurs to buy equipment for this line of goods, which includes the standard equipment.Small cattle slaughter line practically does not differ from similar devices for processing cattle. The main difference is in the size of the carcasses, and the processing process is carried out absolutely identical. Likewise can say about the quality of the equipment, because regardless of its application, it meets all modern standards and production standards which confirms the demand for this product in meat processing enterprises.
EQUIPMENT OF THE PLANT "POLTAVAMASH" FOR SLAUGHTERING CATTLE, SMALL CATTLE AND PIG
Equipment for slaughtering cattle by "POLTAVAMASH" – it's metal, well-designed constructions. All parts of the devices are made of stainless steel, which speaks about the environmental friendliness of the goods, that produced as well as a long operating life, due to the durability, purity and durability of materials.Producer "POLTAVAMASH" offers supply lines for slaughter both in complex form and in the form of separate processing equipment cattle, small cattle and pig.